I just took a dive back into mirrorless and decided that if I truly want to get the advantages that interest me, I'm going to have to look beyond Nikon. Both Canon and Sony offer cameras in the prosumer range, selling for $2,499. Let's see how they stack up.
Canon EOS R6
The R6 was released in July 2020 and represents Canon's entry-level full frame mirrorless camera. It's positioned similar to the 6D DSLR, but isn't as hobbled as that model was compared to the 5D. Its sensor is "only" 20 MP but is the same sensor as Canon's top-of-the-line $6,500 1D X Mark III. 20 MP equates to a loss of about 17% pixel area compared to my D750 or 600 horizontal and 400 vertical pixels per image. It isn't a ton but it would slightly reduce my ability to crop, which is something I do fairly often.
While it is lower resolution than my 24 MP D750, it surprisingly resolves more detail. Comparing the two with DPReview's studio scene is mind boggling. The R6 is more detailed and has better noise control at the same ISOs. Dynamic range is far better than the last time I used Canon, but the R6 isn't as flexible as the D750. If I take a D750 image at ISO 100 and push it 6 stops in Lightroom, it looks very similar to an image taken at ISO 6400 on the camera. The R6 is OK but starts generating significantly higher noise when pushed 4 stops or more. I rely on this capability of my D750 to save some of my shots in post, especially when photographing animals that require high shutter speeds.
The rest of the specs are pretty awesome though. It offers 12 fps continuous shooting with the mechanical shutter, which beats my D500 by 2fps. Switching to the electronic shutter allows up to 20 fps continuous shooting, however there is a drop in dynamic range that really affects pushing images in post. That said, 12 fps with the mechanical shutter does not have this limitation and its still twice the speed of my D750. I could certainly make that work.
Adapted Canon lenses also work perfectly on it – eye focus, animal focus, and subject tracking work as well with adapted lenses as with native lenses. I could save some money buying used Canon EF lenses and using an EF-to-R adapter. I'd end up with a mirrorless camera and no native lenses to go with it, but I don't care as long as they all work well. It's an intriguing option if I can get over spending that kind of money on a camera with fewer megapixels.
Sony A7 IV
The second contender is Sony's A7 IV, introduced in October. Similar to the D750 in 2014, it provides a very high price-to-performance ratio. It's the first camera in this price range with a larger sensor – 33 MP. This provides about 38% more pixel area or 1000 more horizontal and 700 more vertical pixels to work with than my D750. The additional resolution provides more detail than my D750 and a bit more than the R6 but there is more noise at higher ISOs. Like the R6, images can't be pushed as far in post, only getting away with 3 stops before introducing more noise than native ISO. I can generally push my D750 images 4 or 5 stops with little impact. Compared to the R6, the A7 IV provides a tad bit more detail at the cost of extra noise and handles pushing in post a tiny bit better.
Sony introduced the eye focus and subject tracking that mirrorless cameras are known for and had been leading this area until Canon's release of the R6 and R5 in 2020. The A7 IV inherits faster, more accurate, and sticky subject tracking from the $6,500 A1, which improves the already amazing autofocus from its predecessor. That said, Canon and Sony are a near match in this area so the A7 IV's improvements don't net it a win.
In terms of continuous shooting speed, the Canon clearly comes out on top. The A7 IV shoots at 10 fps in both mechanical and electronic shutter. That is more than my D750 and the same as my D500, and it's plenty for me. The problem with the A7 is that when shooting at 10 fps it only outputs lossy compressed RAW files, which lose some data that might be needed to push them post. It appears that they might still push OK, but I won't be sure until I try it myself. I'm worried it will be similar to the R6 when shooting with electronic shutter, however the R6 doesn't have this problem at up to 12 fps. If I want full quality RAW files from the Sony that I can push in post like I do with my D750 I'm stuck at a D750-like 6 fps. That limits the value of this camera for me – with autofocus like this I want to use it for animal shots where I typically need that extra latitude in post.
As Sony has been in the mirrorless business the longest, it has the largest line of native lenses. Minolta lenses (on which Sony's DSLRs were based) can be adapted, but they aren't known for image quality so I'd stay away from those. That leaves native E-mount lenses. There are some on the used market but not nearly as many as Canon's DSLR EF lenses. If I were buying new native lenses, Sony's are quite a bit less expensive than Canon's R lenses, but they can't beat the price of adapted EF glass.
What About the Rest of the Specs?
I didn't dive into many of the specs between the two cameras because they are either equivalent or don't matter to me. They both have great EVFs with 120 fps refresh rates. They shoot 4K video a bit differently but they are both much better than my DLSRs. The Canon has a better screen on the back but the Sony is fine. Battery life across both is fine. Great lenses are offered for both. They use different memory card configurations but it isn't a big deal.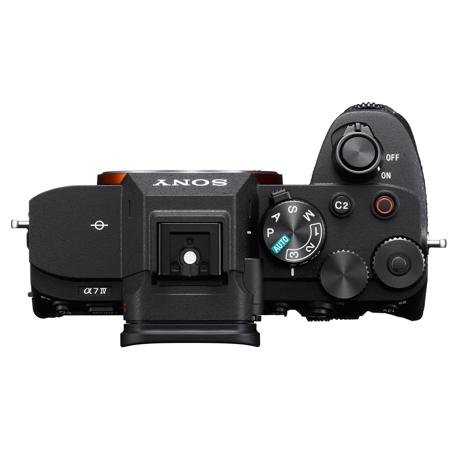 One difference worth noting might be the ergonomics. The shape, weight, and build structure of Sony's has been behind Canon and Nikon for a long time, but has caught up in recent years. The cameras have become slightly beefier, button placement has improved, and grips have been enlarged. Sony's still look a bit different from DSLRs and that's OK. The R6 looks very much like a Canon DSLR that went on a bit of a diet. The shapes are the same, layouts are consistent, but it's a bit smaller. I don't know which I will prefer but I can say that my Canon EOS 7D was the most comfortable camera I had ever owned.
The final difference that might matter is customization. When I moved from Canon to Nikon I entered a system of cameras that were extremely customizable. My Nikons allow me to remap buttons to different functions and include many multi-level controls to speed up my workflow when shooting. I love the customization. Canon seems to have improved in that area in recent years but Sony is known for letting you customize everything to the point where it is overwhelming. Would the Canon limit me? Would the Sony overwhelm and annoy me?
The Cost of Mirrorless
I stated earlier that even if I stay with Nikon, I'd eventually start buying native lenses which is basically buying into a new system anyway. So do I wait for Nikon or jump ship now? What would it cost?
If I bought a Sony A7 IV and my four most common lenses (24 – 120mm f/4, 70 – 200mm f/4, 50mm f/1.8, 85mm f/1.8) it would cost me $6,250. With used lenses (that I can find) I could squeeze that down to $5,820. Canon would cost $6,400 with new RF lenses, but drops to about $4,900 if I buy used EF DSLR lenses.
| | | | |
| --- | --- | --- | --- |
| | Sony A7 IV | Canon R6 | Nikon I wish existed |
| Body | $2,500 | $2,500 | $2,500 |
| Lenses (Top 4, used) | $3,320 | $2,431 | $250 (FTZ adapter) |
| Total | $5,820 | $4,931 | $2,750 |
Staying with Nikon is the least expensive option because I can keep using most of my existing lenses
In either case I still wouldn't have a 150 – 600mm lens for wildlife, I wouldn't have a macro, I wouldn't have a 15 – 30mm wide angle, and I wouldn't have a 28 – 300mm walkabout lens. I'd either need to spend thousands of dollars to buy them or I'd need to continue using my Nikons which brings up another point: I actually don't want to get rid of my Nikons. I still love my Nikon equipment. I want to augment my kit with mirrorless, not replace it.
Even if I did want to get rid of my Nikon gear, I'm not going to get much back on it. I quoted what I'd get for selling basically everything and it's about $3,500, with $1000 coming from the bodies alone. My lenses are barely worth anything. The beautiful 70 – 200 mm f/4 that I bought for $1,400 in 2016 is only worth $360! That's just not enough to make it worth it for me. I got less for my Canon equipment than I expected and I wish I had kept it anyway. Ironically it would have made this mirrorless decision a bit easier 🙂
In summary, either mirrorless system is expensive but the Canon could be about 20% cheaper with used gear. Selling my Nikon stuff isn't worth it.
What to Do?
I think the answer right now is nothing. What I really want is a successor to the Nikon Z6II with the autofocus of the Z9. I could spend $2,500 on the body, buy an F mount adapter, and use all of my existing lenses. Suddenly I'd have access to amazing eye focus, animal focus, and sticky continuous subject tracking. It would be far easier to shoot soccer games, get bird photos, and catch pictures of our dog running around.
While Nikon has shown that it is capable of hanging with the big boys, it currently costs $5,500 to get into that party. I don't know when that will trickle down to my price range, but given Nikon's struggles recently I don't know if it will happen this year.
In the mean time I would like to try mirrorless. At a minimum I can go to a store like Best Buy and play around with their floor models a bit, assuming they aren't broken like they tend to be. I can also rent equipment to try it out, which might be a nice way to use Sony or Canon without buying in. I could even buy a used Z6, accept it's autofocus limitations, and sell it when the camera I want comes out. I'm happy I did this research; at a minimum I'll be informed the next time I want to look at mirrorless.